As you saw in my previous post, my husband had quit his job, and we have all been rallying to work on various things to bring in money to bridge the gap while he looks for a new one.
The best-laid plans and all that… most of our attempts have not worked out, not for lack of trying, but we're working on it.  We've also been dealing with repeated health issues.
First, my mom ended up landing in the hospital three times in quick succession.  Once, because she seemed to be having an asthma attack that wouldn't respond to her meds.  Turned out it was her congestive heart failure, which had decided to worsen.  Her cardiologist had been waiting since February for her to be eligible for Medicare, so he could run some tests we couldn't afford and see if she needed a pacemaker or something.  She had just gone on Medicare, so he launched right in.  After doing a cath, he implanted a defibrillator.  I could tell he was really glad to have that done.
After that, it was bleeding issues due to her blood thinners (she's been a heart patient ever since having open heart surgery over 40 years ago), and finally, another bout with fluid retention.  All this to top off multiple sprains to her right leg several weeks before.  She's recovering nicely, though.  With everything my mom has been through in her life, I have no right to complain about anything!
Then, I caught a cold.  As I recovered, we had a funeral to attend for an uncle — an all-day affair, across the river, miles and miles away.  It was very moving to witness a burial with full military honors — the salute with the rifles, the playing of "Taps" by a white-crowned soldier — I had never seen this before, and I was so glad we were there.
A couple more days full of activity, and I started relapsing with the cold — and Shay caught it.  Oh, joy!
The two of us ended up missing Thanksgiving at my cousin's house.  Her sister and her family had already had to bow out, because her mother-in-law had taken a turn for the worse.  If our family didn't come, my cousin would have no company over at all for Thanksgiving.  My aunt came over and picked up my mom and the kids, to keep that from happening.
They had a wonderful Thanksgiving; meanwhile, Shay and I ate leftover pea soup and a loaf of pumpkin bread, while being total slugs in the living room watching football all day long.  And the next day, while we waited for them to come back (last-minute sleepover arrangements).  Worked out very well for them, as they got to help feed my cousin's husband's Star Wars fanaticism with a game of Star Wars Trivial Pursuit.
(Incidentally, my cousin's husband found out he's not as much of a fanatic as he thought.  Galadriel won Trivial Pursuit, and Bunny-Wan Kenobi tied for second!  He's probably so horrified, he'll have watched the whole original trilogy several dozen times before they come back.  He'll be wanting a rematch, I'm sure!)
At any rate, that's only a selection of the craziness that has been going on around here the last month!  Perhaps I will have a little more opportunity now to repair my poor blog!
The first step is this post and a new button in the right sidebar (which you might notice has become more populated with links over the last couple of months):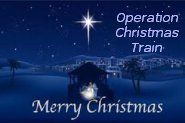 Operation Christmas Train is a new organization that
… partners with local organizations and churches and charitable organizations and identifying families in need that cant buy a Christmas present for their children.. and provide them with a complete train set.. of 5 cars one engine a caboose 14 pieces of track… a building a couple of hot wheels.. figurines and a transformer… to give to those kids in need at Christmas time…
This guy is pretty amazing!  This idea is all of four weeks old, give or take, and he's already working with Angel Tree, the Salvation Army, and Starbuck's, at the very least.  Basically, people send him train stuff, and he and his model railroading club does repairs and puts together complete sets from it all.  The sets get boxed up and given to families of needy kids.  They've even been able to start including stuff like hats and mittens!  Over 20 sets are already complete.
If you have some HO (as far as I know, that's the only scale he's accepting at the moment — it's also the most common, by far) trains, track, buildings, people, animals, transformers, or parts that have been calling to you, wanting to be used and played with, why not give them new life in a Christmas train set for a child?  He also accepts Hot Wheels, items for newborns, toys for ages 3 – 11, and hats and mittens for ages infant – 12.
The button connects to a Facebook page, which is all he has at the moment, but here is the contact information posted there, which, since the group is public, I imagine is fine to post here (in case you don't do Facebook):
Contact our director Dustin Fisher on facebook for more details or operationchristmastrainset[replace this with an "at" symbol]yahoo.com…
Operation Christmas Train set items can be sent to
540 Skylark Drive
Oklahoma City Oklahoma 73127
or contact us to sign your organization up to receive free train sets.
I did remove the phone number, and I added the bracketed bit to the email address.  I don't want to be responsible for him getting spam, and my blog is crawled by spambots constantly.
Well, I'm up way too late, but I really wanted to get this out there quickly!